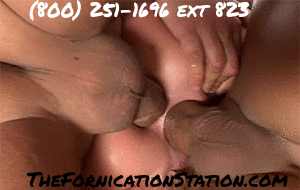 I'll be the first one to admit that I love all kinds of cock, and I love taking it while my cuckold bitch watches. I am a true cum slut, and worship every single dick that I can get my hands or mouth on. I've tried all different types, thick and short long and fat, skinny and curved. But I'll tell you there is a particular type of cock that I am absolutely addicted to. That is BBC.
Yeah I love fucking and sucking those huge thick black anacondas, and then making that cuck clean up my mess. I cannot get enough of those midnight monsters slamming into my pussy, or cumming down my throat. My favorite thing is to have my tight little ass hole stretched out by those big thick black cocks. I'll go whoring around downtown, just so all of my clients can be packing and stacking those BBC's for me. My cuck fluffs those fuckers right up for me! He uses his bitch hands and mouth!
They pay so fucking well, and I really absolutely get off on them! I squirt all over those cocks while I'm riding and grinding; my cuck slave cries as he watches, pathetically pawing at his cock cage. My favorite thing is when they bend me the fuck over, and really force themselves so deep inside of me I know they're rearranging my fucking guts. I don't care if it's in my asshole or my pussy, as long as I'm getting fucked by that big black schlong, I know that they have it going on. And I know my slave will clean us when I'm done. There's nothing wrong with a woman knowing what she likes. I'll still fuck other guys, but I'm really addicted to that big black cock, and my cuckold slave is addicted to being caged by me.